"Check fraud and counterfeiting are among the fastest-growing problems affecting the nation's financial system, producing estimated annual losses of $10 billion and losses continue to rise at an alarming rate annually." [National Check Fraud Center—Check Fraud Statistics @ [http://www.ckfraud.org/statistics.html].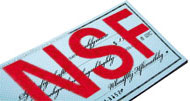 Check fraud is rampant. Studies have revealed that 40% of businesses will be directly affected by check fraud in a given year. Over 1,200,000—that's one-point-two million checks are fraudulently tampered with daily resulting in 500 million fraudulent checks a year! F & E Check Pros provides consultative sales services that minimize check fraud. Although we provide excellent, state-of-the-art, high technology deterrents minimizing our customers exposure, we cannot prevent all check fraud.
Positive Pay is a joint effort between check generators and financial institutions to assist further in the fight against check fraud. With Positive Pay, the check generator electronically forwards pertinent information for a draft instrument (check) to the financial institution including, but not necessarily limited to, the check number and the dollar amount of the check. Upon presentment, the Paying Bank verifies the validity of the check against the previously sent electronic data and clears only the checks that match.
F & E Check Pros provides powerful solutions that help customers easily provide the electronic data in the format required by their bank. These solutions may be further customized to provide electronic payments, electronic notification of payment and a host of other payment expediting and security features.
Contact Us today for a more detailed analysis of your current operations and how Positive Pay may be implemented in further securing your company's assets.